POSUŠJE
TOURISM POTENTIAL
The Municipality of Posušje is rich in natural resources needed for the development of various forms of tourism, from which the Nature Park Blidinje can be distinguished. The vicinity of bigger tourism markets such as Međugorje and Dalmatia enable the development of ski, mountain hiking and sightseeing tourism.
Natural resources in the Municipality of Posušje are:
Nature Park Blidinje
The area of the Nature Park Blidinje in written documents was first mentioned in 1408 in a letter of the Bosnian King Ostoje, even though this area was settled earlier than the first written record. The Nature Park Blidinje is located in the area of the Municipality of Posušje, Tomislavgrad and Jablanica, that is in the West Herzegovina Canton, the Herzeg-Bosnia Canton and the Herzegovina-Neretva Canton. The mountain Čvrsnica (Pločno 2.228m) and Vran (Veliki Vran 2.074m) and Lake Blidinje and Polja constitute the most prominent parts of this area. The Blidinje area is a unique natural phenomenon with beautiful scenery where many endemic species of the flora and fauna live, of which the most famous is the pine tree Munika. Lake Blidinje, an area of 6 km2 is located at 1.184m above sea level. The Nature Park Blidinje is primarily thought of by everyone as a winter destination, a place where one can go recrational skiing, snowboarding, sledding, ride scooters, etc.
In the Park there is a big ski complex (ski resort)- Blidinje ski and Nature Park which consists of a four-seat lift (Doppelmeyer, capacity of 1942 persons/h) and a ski lift, ski runs- for beginners and for those more experienced skiers, snowboarders, and there is an area for snow sledding for the youngest. In the park area there are a few restaurants, motels and pensions.
For all those looking for fun and adrenaline in the area of Nature Park Blidinje, there are a few paths for Off Road Rally lovers. It is important to point out that these paths are not too demanding.
Biking and hiking
The Croatian Mountaineering Association 'Pločno' is active in the municipality of Posušje. Posušje's mountains are ideal for anyone who wishes to hike, the mountain Čvrsnica can be pointed out, which with its gelological forms impresses everyone who decides to hike on it. Many mountaineering/hiking associations, which there are many lately from the area of Bosnia and Herzegovina, Croatia, Slovenia and other countries, more often choose this area for their hiking routes.
NAME OF THE TRAIL – LENGTH
Ričina-Oštrc -9,50
Podzavelim-Zavelim – 7,00
Posušje (church)-Radovanj-Snižnica-Tribistovo – 11,00
Masna Luka-Pločno – 11,00
Masna Luka-Lokve-Vilinac – 14,50
Risovac-V. Vilinac – 12,00
Bare-Pločno – 8,50
Lake Blidinje-Jelinak-Pločno-V. Vilinac-Jezerce-Risovac – 25,00
Kedžera-V. Vran – 5,50
Lake Blidinje-Pećina M. Tomića-Hajdučki grob-V. Vran – 11,00
Rakitno-Korita-Bosiljna-Bijele Stijene – 16,00
TOTAL 131,00
Golf in Herzegovina is one of the youngest sports. Besides a few individuals, who love their hobby, a few had the chance to try this sport in tha past few years. Today the situation is totally different: at the end of 2006 the Golf Club Posušje was established- the second in Bosnia and Herzegovina, and the only one in Herzegovina. Visitors from all over the world are more than delighed with the golf course.
Currently in the area of the Park there are 5 national monuments, which were declared as national monuments by the Commission for Preservation of National Monuments of Bosnia and Herzegovina.
National monuments are:
necropolis (tombs) in Risovac

Dugo polje

Ponor

Barzonja

Donje Bare

Lake Tribistovo
Lake Tribistovo was created as a reservoir of drinking water for Posušje. It was made in 1989. It is located between Posušje and Rakitno, on the way towards the Blidinje ski resort. Its length is approximately 500m, with approximately 300m, while the maximum depth is approximately 15m at the deepest areas.
"Stone Days"
With this project we popularize sone processing and traditional stone carving as a profitable economic activity. The meaning and goal of this original (by name and content) manifestation is to present the connection between the Herzegovinian and this natural resource, as well as his coexistence with it. "Stone Days" has the goal to arouse interest, especially to young people, a greater interest for stone, to present to the wider public all types of works which the theme was stone, weather it was a carved work, a painted image or a photograph of stone and stone buildings. One of the goals is to contribute to economic development in the transboundary areas of Dalmatia and Herzegovina by development and promotion of entrepreneurship in the sector of exploitation and stone processing. Many exhibitors and visitors attend "Stone Days". "Stone Days" are held, most often, the first weekend in August.
Festival of folk songs "klape"
From this year, 2014, the first international Festival of "klafe" folk songs was held in Posušje, which will become traditional. In the future, this will become a recognizable symbol of Posuje, an important cultural event which is definitely refreshing in terms of new cultural content, and in this way Posušje's, the West Herzegovina Canton's and Herzegovina's tourism potential will be promoted by arrival of tourists to this festival.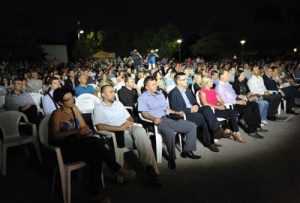 The Brina Canyon
The Brina Canyon is one of the most attractive tourism (micro) localities in the area of the Municipality of Posušje with its expressed adventure note. Brina is a gorge between 2 hills, which connects the Ričina settlement- located approximately 1km west of Posušje, with Tribistovo- a village in the northern part of the Municipality of Posušje.
---
Source: www.opcina-posusje.ba
2,107 total views